Adding a recipient or destination email id
This article guides you through the steps to add a new email recipient email id on MutantMail. This is a real email address where emails can be forwarded to.
Adding a Recipient email id
To start the process go to "Recipients" tab on navigation bar.
When you click "Add Recipient" a modal will appear. Enter the email that you would like to add e.g. [email protected]
You will receive a verification link via email that you must click before you can start using the recipient.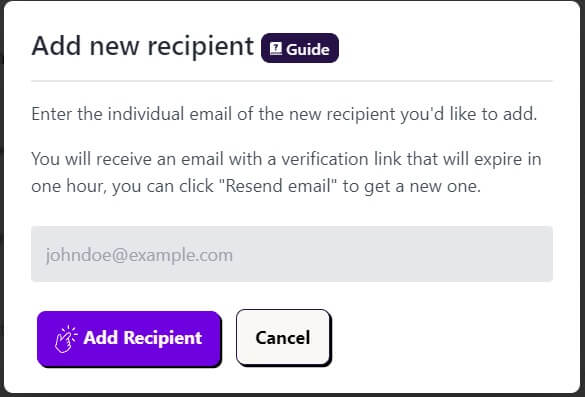 If you do not receive the verification email, please check your spam folder, you can also resend the email by clicking "Resend email" in the column named "Verified".
Since, privacy is a big concern for us. Recipient email addresses in the database are encrypted using OpenSSL and the AES-256-CBC cipher. Furthermore, all encrypted values are signed with a message authentication code (MAC) to detect any modifications to the encrypted string.
Once recipient email has been verified, it can be set as default in setting, or used for any specific alias destination.